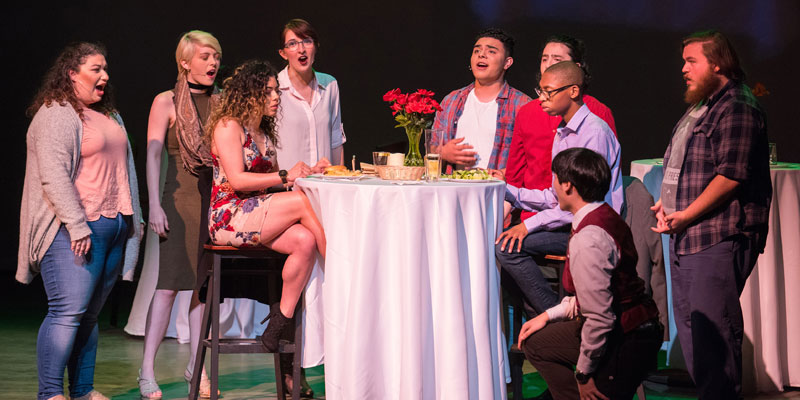 As the largest community college in the State University of New York (SUNY) system, SUNY Suffolk is constantly augmenting and adding selected academic programs that are projected to offer Suffolk County residents exceptional career opportunities for today and tomorrow. We are excited to share the following new and updated programs that will be launching this fall semester. 
Performing Arts
In addition to the Theatre Arts Program located on the Ammerman Campus in Selden, SUNY Suffolk is debuting a Performing Arts Program on the Michael J. Grant Campus in Brentwood in the fall of 2021. This Associate in Science (A.S.) degree fosters the academic and practical study of performance while highlighting the essential hybridization of music, theatre, dance and musical theatre. Students will take courses in a diverse set of performance disciplines that provide a foundation for individualized opportunities in performing arts specializations with a focus on transferring for a baccalaureate degree at colleges including SUNY Binghamton, SUNY Oswego and other academic institutions that are recognized for their musical theatre and performing arts programs. 
Students enrolled in SUNY Suffolk's Performing Arts Program will enjoy access to a new, campus-based Black Box Theatre, as well as a newly designed dance studio. These spaces will allow for regularly scheduled classes to meet at opportune times while providing performance opportunities in dramatic plays, staged readings, dance recitals, musicals and vocal/small instrument ensemble performances. Graduates can pursue a career in the arts, including actor, musician, dancer, producer, director, teacher, arts administrator, critic and front-of-house vocations.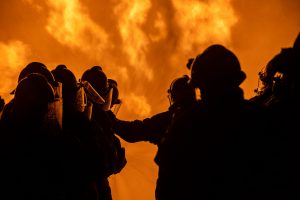 Fire Protection and Life Safety Studies
The Fire Protection and Life Safety Studies curriculum will provide a professional education in fire protection technology, fire suppression, emergency medical care, hazardous materials safety and occupational safety. This Associate in Applied Science (A.A.S.) degree is designed to help prepare students for employment in fire protection agencies, emergency medical services, emergency management and occupational safety. Most career fire departments require either completion of certificate courses and/or the degree program for promotion inside the department. 
Health Information Technology
Health information technology is a rapidly expanding field in which professionals are dedicated to the effective management of patient information and health care data needed to deliver quality treatment and care to the public. Specialists ensure that providers, health care organizations and patients have access to the right health information when and where it is needed while maintaining the highest standards of data integrity, confidentiality and security.
Upon completion of SUNY Suffolk's Associate in Applied Science (A.A.S.) degree in Health Information Technology, students will be eligible to apply to take the national qualifying examination for certification as a Registered Health Information Technician. The curriculum combines general and technical education with career development and clinical experience. In addition to courses in liberal arts and sciences, the program provides one semester of fieldwork. Students will be prepared for roles such as data integrity analyst, quality improvement analyst, clinical coder, reimbursement/revenue cycle specialist, clinical informatics coordinator, clinical documentation improvement specialist and positions in supervision/management. Health information professionals work in a variety of health care delivery settings, including hospitals, nursing homes, medical practices, managed care organizations, pharmaceutical and medical research firms, and health data organizations.
Journalism
The Associate in Arts (A.A.) program in journalism is designed for students who wish to transfer to a four-year college to pursue careers in journalism, magazine writing, social media or writing for trade and web publications. Students will gain an understanding of the basic principles and practices of journalism and will be given an opportunity to write for and participate in the production of a student news publication.
The program contains core journalism courses and a selection of liberal arts courses – social science, humanities, mathematics and science – to gain a wide range of knowledge useful for writing in the field. 
Sport Management
The Associate in Science (A.S.) in Sport Management prepares graduates for careers in the dynamically expanding sports industry. It combines sport management, business and general education courses with hands-on experience within sporting events. It is designed for students who plan to transfer into a four-year Sport Management or Business Program and, ultimately, pursue careers in athletic administration, sport/recreational facility management, coaching and event management. 
A Better Beginning
In addition to these new programs, students at SUNY Suffolk can pursue nearly 100 degree and certificate options and, by starting here, our graduates often save tens of thousands of dollars while going on to excel at some of the nation's most recognized institutions.
In fact, we are proud to say that our students routinely transition to a variety of prestigious baccalaureate programs at public and private colleges and universities on Long Island, around New York State, and throughout the nation. For more information about academic programs at SUNY Suffolk, simply call 631-451-4111 or visit sunysuffolk.edu/enroll.